Anywhere and anytime peer-to-peer feedback and coaching.
Saba delivers a cloud-based Intelligent Talent Management solution used by leading organizations worldwide to hire, develop, engage and inspire their people. Saba's approach to talent management incorporate machine learning technology, social, collaboration and mobile capabilities to help organizations adapt to the future of work.
Understanding the problem
Market opportunity
Instead of ditching the annual performance review, organizations have been shifting the way evaluations are done to meet the needs of their employees. Employees want to have conversations about their performance and development regularly – delivered as a "just in time, just for me, just the way I want it" experience.
Insights from research
A focus group with customers and data collected from user interviews - indicated that the app should be simple and quick to use. Also, the users wanted to get some value for using the app. That resulted in the designing of feedback cards that allow users to send feedback in seconds but also receiving bite-sized coaching tips.
Design Challenge
Continuous coaching and ongoing feedback help employees perform to their full potential, improving engagement, retention and productivity. But for most people sharing feedback does not come naturally.
By making easy to share and receive real-time feedback, employees will always know what's going well and where they can improve.
How might we help employees to effortlessly have performance-focused conversations while forming feedback-sharing habits?
To address the design challenge, we created an app that enables employees to instantly capture content from email, pictures, chat, and articles to share as part of their conversations with anyone in the organization.
More so, the app helps employees to create the habit of delivering and receiving feedback with recommended approaches, reminders and self-reflection tips.

​​​​​​​Validation with users
With the first interactive prototype developed, we validated it with users through a survey with around one hundred users. We also recorded a few users testing the app. All this data helped us to fix the UI and improve some flows.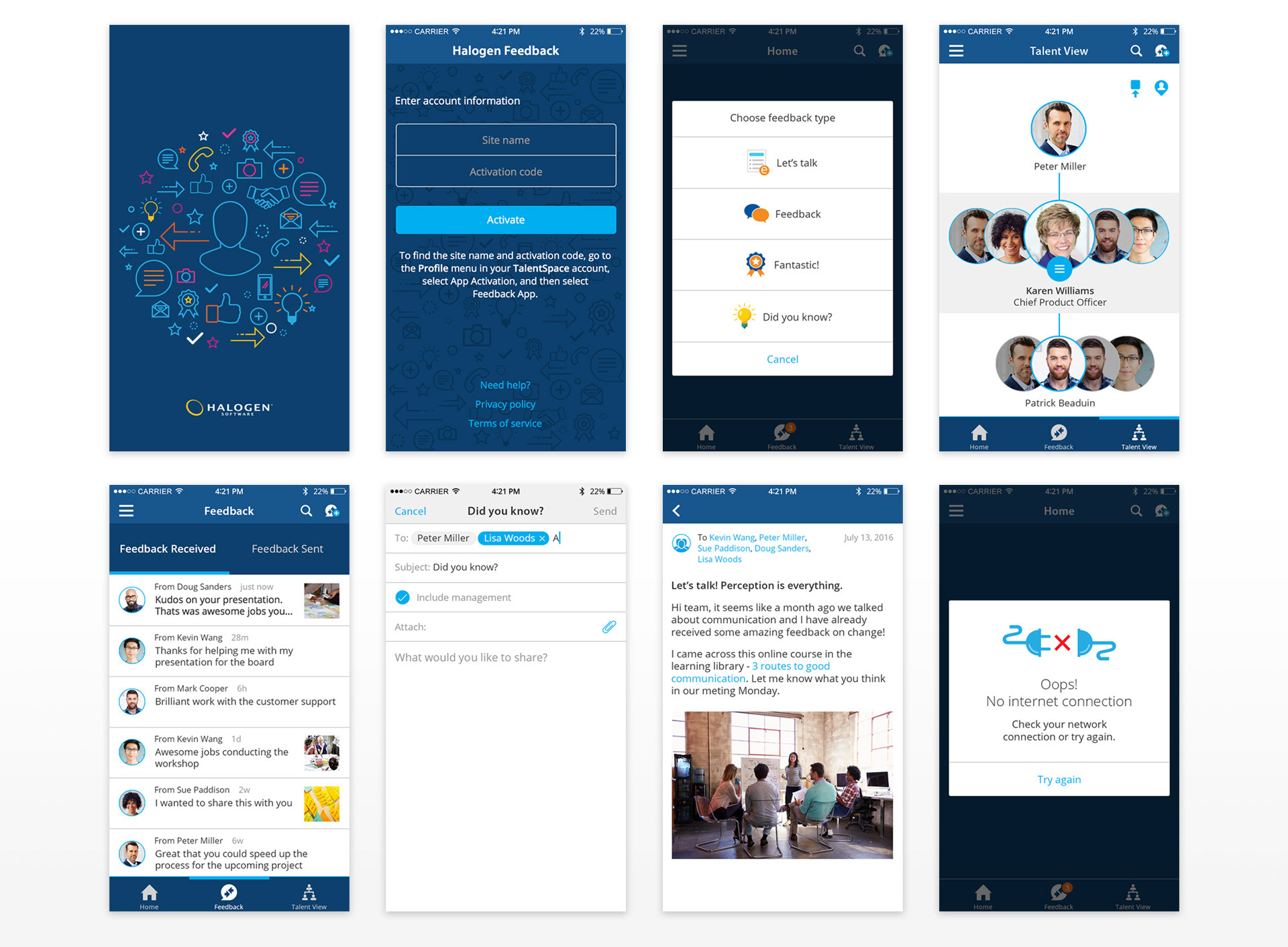 Drinking Our Own Champagne
Here are few feedback messages I received through the TalentSpace app after it was released:
"Daniel, thank you for insisting on the right things to be done


and showing flexibility when a compromise approach was acceptable."
- Vladimir Makarov, Senior Manager, Software Development -

"I think this will be a real game-changer for our customers.
Well done and let the celebrations begin!"
- David Mennie, VP Product Marketing and Strategy -

"Thank you for the vision and your commitment to getting it here.
Your sense of ownership and investment in creating the best possible
outcome never faded. Amazing."
- Catherine Cormier, UX Manager -